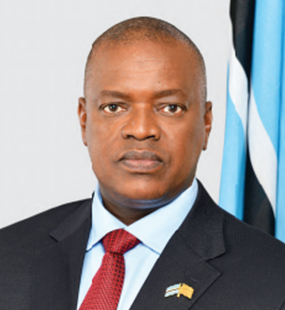 His Excellency Dr. Mokgweetsi E.K. Masisi is the fifth and current President of the Republic of Botswana, an office he assumed in April 2018.
Prior to this, President Masisi served as Botswana's eighth Vice President from 2014-2018 and, before that, held a number of ministerial positions, including the Minister of Education and Skills Development and Minister for Presidential Affairs and Public Administration. He also served as the Member of Parliament for the Moshupa-Manyana Constituency and between 1995 and 2003 was an Education Project Officer with the United Nations Children's Fund (UNICEF).
President Masisi holds a Master of Science Degree from Florida State University and a Diploma in Secondary Education from the University of Botswana. He also undertook graduate studies in Economics and Social Policy at Manchester University, under the Commonwealth Chevening Scholarship programme.