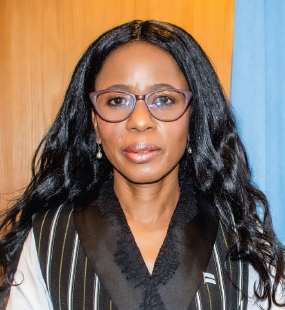 Honourable Peggy Onkutlwile Serame was appointed Minister of Finance and Economic Development on 16 April, 2021. Before then she served as the Minister of Investment, Trade and Industry from 6 November, 2019 to the 16 April, 2021. Honourable Serame was the immediate past Acting Deputy Permanent Secretary to the President from September to November 2019. Prior to her appointment as Minister she was the Permanent Secretary in the Ministry of Investment Trade and Industry from January 2015 to November 2019.
Honourable Serame has served in various positions in the public service. Upon graduating she was employed as an Economist II in the then Ministry of Finance and Development Planning, Division of Economic and Financial Policy. She has over the years served in various portfolios amongst others, she was Director for Macroeconomic Policy where she coordinated the preparation and implementation of National Development Plans, economic modelling and related research.
The Honourable Minister has served on a number of Boards, including SPEDU, Botswana Bureau of Standards (BOBS), Botswana Privatisation Asset Holdings and Citizen Entrepreneurial Development Agency Venture Capital Fund (CVCF), Botswana Investment and Trade Centre (BITC), Botswana Development Corporation (BDC) and Special Economic Zones Authority (SEZA).
Honourable Serame is an economist by profession with a Master's Degree in Economics and Bachelor of Arts in Economics and Statistics, from the University of Botswana. Her goal remains making significant contribution to the development and transformation of Botswana's economy ultimately changing the lives of Batswana.