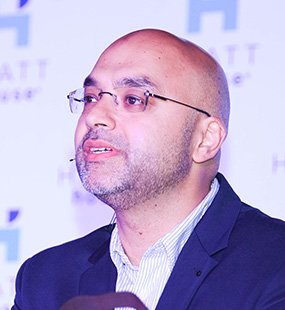 Hamza Farooqui is a prominent South African-based entrepreneur with a special interest in real estate, technology, hospitality, leisure, and global financial services. He is the founder and CEO of the Johannesburg-headquartered boutique family investment office Millat Investments which he started in 2016.
He started his entrepreneurial journey in his early teens when he conceptualised and developed icricketer.com providing millions of fans around the world with live online cricket scoring and radio/audio updates. The business achieved global success and recognition.
Later he co-founded South Africa's first Islamic satellite radio station, CII. CII went on to become a significant player in the Islamic media, Islamic retail, and Islamic financial services front. He helped launch a variety of multi-billion Rand pioneering Islamic financial services products with Old Mutual and Albaraka Bank.
Continuing with the entrepreneurial journey, he subsequently joined and became the managing director for satellite radio company WorldSpace in Africa. During this time, he was part of the team which supported the company's capital raising process which led to the successful IPO of the company on NASDAQ. This provided him with significant experience in working with large capital providers such as global private equity funds, sovereign wealth funds and family offices.
He was also the driving force behind the first ever dry hotel built in Cape Town initially being branded by Hilton Worldwide. Farooqui is driven by an abiding passion for and firm belief in South Africa. He is an active and successful player in the tourism sector where, in partnership with the global Hyatt Hotels brand, opened four hotels in the country during the height of the COVID-19 pandemic.
Hamza's most recent brain child saw Millat Investment becoming the first hotel group to open Dark Kitchen food brands in South Africa with Uber Eats coming in board as an exclusive partner for ordering and delivering.
He strongly subscribes to the concepts of community and family and values the importance of a service ethos in everything that he does.
Farooqui travels the world widely, has extensive business interests in the GCC and the sub-continent, and through an extensive network has high-level access to global companies and their leaders. He also draws inspiration from the cultural diversity in these regions and his parental roots of Pakistan and uses every speaking opportunity and engagement to extol the potential of South Africa as an investment destination.
Farooqui fervently believes that South Africa's future economic success will be built through the power of entrepreneurship. The secret he says, is to remain laser-focussed on the job and to work in sectors that constantly move your spirit.