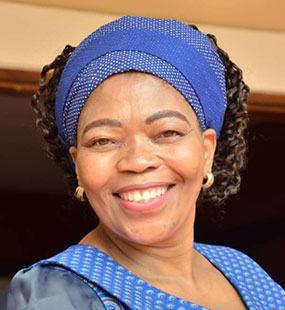 Hon. Philda Nani Kereng, is the Minister of Environment, Natural Resources Conservation & Tourism of Botswana. She has brought a new impetus to the tourism industry of her country by revising the tourism policy so as to enhance the participation of the country's citizens in the tourism industry and to diversify the tourism products across the country.
She has devised strategies to accelerate the recovery of Botswana tourism industry through the networking of its different partners so as to achieve synergy while improving sustainable conservation practices and positioning her country as a tourism and investment regional hub.
Hon. Philda Nani Kereng efforts earned due recognition as she was recently acknowledged as one of Africa's Tourism Board Key Leaders in Africa.
She has also been active on the social front since 1995. She held until 2001 the post of Chief of Surveys and Follow ups of the Rural Industries Innovation Center, planning and managing nation-wide sociological research projects to improve industrial and farming activities.
Furthermore, she has also been a Project Officer for Community Development of the Action for Economic Empowerment Trust, a local partner of the US African Development Foundation (ADF), working closely with rural communities to identify, plan and manage community ecotourism projects.
Her grassroots knowledge of the Botswana's society led the United Nations Children's Fund (UNICEF) to appoint her as Child Protection Officer to drive the national programme on orphan care and child services in collaboration with NGOs and CBOs. She was also instrumental in the development of the Children's Act of 2009.
Hon. Philda Nani Kereng received an award for being one of Africa's Tourism Board (ATB)'s Key Leader in Africa at the first East African Regional Tourism Expo on the 9 October 2021. The award recognizes her excellence in driving development of sound tourism recovery strategies. Such strategies include the review of tourism regulations, the Tourism Policy, development of climate change and response and integrated waste management Policy amongst the few.
Hon. Philda Nani Kereng holds a B.A. in Public Administration and Sociology as well as a Masters in Sociology of Development (UK).
In parallel to her State responsibilities, she is an associate pastor in a local church and often acts as counselor and life coach for families, women and young people.