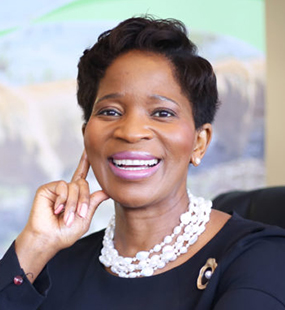 Accomplished Executive with 26 years of successful experience in providing strategic, operations and transformational leadership in challenging areas within the Hospitality and Tourism industry both locally and internationally.
Currently she is serving as the CEO of the Hospitality and Tourism Association of Botswana (HATAB). Overseeing 460 companies which makes up the entire hospitality and tourism subsector being Camps & Lodges, Hotels, Mobile Operators, Tour Operators, Airline, Air Charters and Services.
Some of the Non-Executive positions that Lily held and some she continues to hold are with the following boards and committees:
Served as a Chairperson of RETOSA (Regional Tourism Organisation of Southern Africa)
Council member of Business Botswana (The Voice of Private sector in Botswana)
Board member of Botswana Wildlife Training Institute
Member of High-Level Consultative Council Meeting, chaired by His Excellency the President of the Republic of Botswana
Served as a board member of Botswana Vision 2016 Council
Member of Tourism Development Fund Committee
Member of Human Resource Development Council (HRDC) Tourism Committee
Former Board Member of Botswana Business Coalition on Aids(BBCA)
Former member of the Tourism Industry Training Fund
She is passionate about leadership, diversity, equality and inclusion. Lily is also an experienced resource in policy, regulation, advocacy and communications skills that has a unique ability to motivate and inspire change.