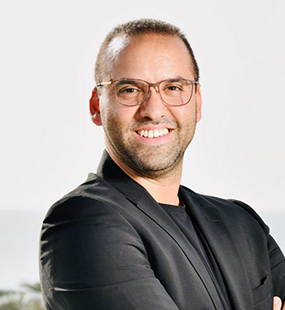 As Director of Investments and Special Projects, Mohamed Belkhodja is responsible for the ongoing expansion of Ras Al Khaimah Tourism Development Authority's business strategies across the EMEA region. He is a true hospitality professional who brings over 15 years of hospitality and management consulting experience to the team. His role is to lead key investment strategies and increase global awareness of the Emirate. Belkhodja delivers on over three decades of expertise across several markets (Global expertise with Local focus).
Belkhodja is a seasoned Eco, Wellness, Agri and Adventure (EWAA) Tourism expert and believes that a combination of sustainable & conscious tourism along with the fractional economy will stimulate the economic & social development of the Emirate. His mandate is to enhance the existing destination product portfolio and develop new tourism attractions to elevate the destination's tourist appeal and enhance the current infrastructure. He strives to develop a conscious ecosystem for entrepreneurs, tourists and residents with projects that blend health, sustainability, and technology.
He was part of the team that won the multi-billion dollar Wynn integrated resort on Marjan Island. He also implemented the Bureau Veritas Safe Guard Program in Ras Al Khaimah which positioned RAK as the first city in the world to be certified as safe by Bureau Veritas and the first emirate to receive the world travel and tourism council (WTTC) safe travels stamp. Last but not least, he implemented the SelectRAK Residency by investment Program in partnership with ARTON CAPITAL in order to boost Tourism & Investment.
Belkhodja holds a Master's Degree in International Hotel Management from VATEL International Hospitality Management Business School and a Bachelor of Business Administration (BBA) in Management Information Systems from the Université Pierre Mendès France – in France.
Reengineering mindsets and creating an impact on Humanity is his passion and personal mission.
His favorite quote: ''We're here to put a dent in the universe. Otherwise why else even be here?'' – Steve Jobs