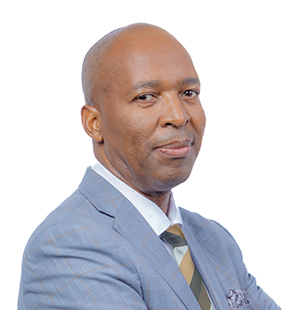 Mokwena Morulane holds a BA Accounting (hons) degree from the University of Bedfordshire, England. He is a fellow member of ACCA, BICA and of Chartered Secretaries of Southern Africa. He also recently acquired the following certifications: Property Development & Investment with the University of Cape Town; and Oxford Executive Development Programme with the University of Oxford.
Mokwena possesses extensive Executive Level experience in the resources sector and is currently independent Non-executive Chairman of Minergy Ltd.
He is also Managing Director of Cresta Marakanelo Ltd.
Mokwena also sits as Chairman of the Masiela Trust Fund, an NGO with a focus on advocacy for children's rights orphans and vulnerable children (OVC).
Mokwena is the Managing Director of Cresta Marakanelo Limited, a leading hotel chain listed on the Botswana Stock Exchange. He started his career at Deloitte and has held leadership roles in the mining and financial services sectors. Mokwena is a fellow of the Association of Chartered Certified Accountants (ACCA), and a member of the Chartered Institute of Secretaries in Southern Africa. He holds a BA (Hons) in Accounting from the University of Luton, United Kingdom and he has also completed the Saïd Business School, University of Oxford Executive Leadership Programme. Mr Morulane serves on the Boards of Minergy Limited, Masiela Trust Fund and Sentlhaga Pension Fund.