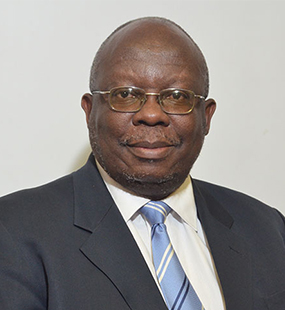 Mr. Moleele holds a Master's Degree in Strategic Management (University of Derby), Post Graduate Diploma in Law majoring in conciliation and arbitration (University of Namibia), Post Graduate Diploma in Business Administration (Milpark Business School), and Certificate in principles of Business & Management (Wits Business School). Mr Moleele has senior management experience and capabilities in strategic modelling, leadership, business development (including monitoring and evaluation, training and mentoring), strategy formulation, change management, Small, Medium, Macro Enterprises (SMMEs) development, customer service, stakeholder management and building strategic relationships, excellent communication, presentation and engaging capabilities and banking.
Mr Moleele has risen through the ranks with Business Botswana ( Formerly BOCCIM) working with the private sector for over 25 years as ; (a) Field Officer; (b) Regional Manager; (c) Deputy Executive Director; (d) Membership Management Director; (d) Private Sector Development Programme (PSDP) Director- on secondment. In his previous roles Mr Moleele has led managed and supervised a good number of senior managers and professionals and other numerous employees.
His responsibilities at Business Botswana include amongst others; driving the overall strategy, risk and management of Business Botswana focusing on Private Sector growth and Social development, research policy and advocacy, establish international partnership, provision of membership service, business development and contribution to accelerated economic growth agenda for the private sector. Mr Moleele sits on the following boards:
Vice Chairperson of the Botswana National productivity Centre (BNPC) board
Rural Development Council (RDC)
Economic Diversification and Trade Council (EDTC)
Botswana Bureau of Standards Council
SADC Private Sector Forum (SPSF) (currently secretariat)
He has represented Business Botswana in Regional and International assignments at; International Labour Organization (ILO), Southern African Development Community (SADC) and African Union (AU). Mr Moleele has worked on projects with the Kenya Association of Manufacturers and participated in several high level meetings, seminars, workshops and conferences across the world.